Willkommen (Welcome)
German American Societies of San Diego, Inc. welcomes you to our website!
We have members from all areas around San Diego. Some are from the Alpine, Carlsbad, Chula Vista, Coronado, Del Mar, East County, El Cajon, Encinitas, Escondido, Imperial Beach, La Mesa, Lemon Grove, Mission Bay, Mission Beach, National City, North County, Ocean Beach (OB), Oceanside, Pacific Beach (PB), Point Loma, Poway, San Marcos, Santee, Solana Beach, Vista, California areas! We are open to the public to our Dinner Dances, Anniversary Ball, New Year's Gala and Choir Concerts. Don't forget Oktoberfest and also another fun outside event, our annual Open House in August! But we have so many more activities for you to enjoy, like Damenkreis (ladies circle), Karneval, Germania Choir and Card Game Evenings . Come and enjoy the German culture!
German Club activities Spring-Summer 2016: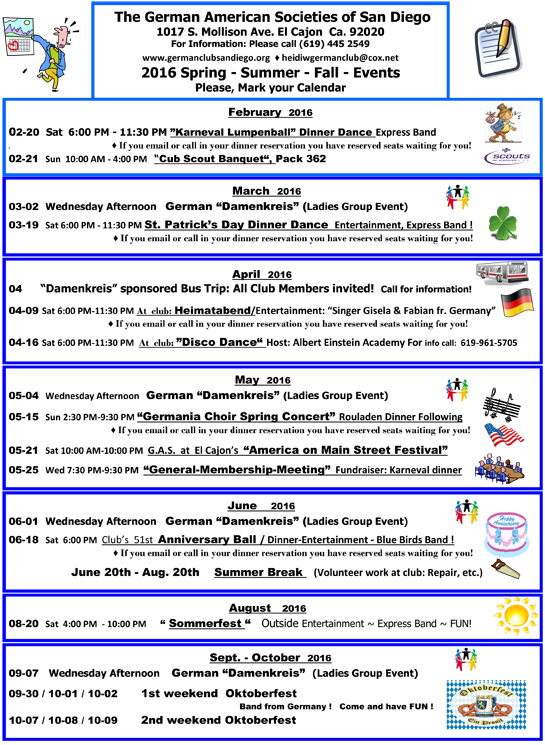 German Club Activity Groups
The following activity groups meet on a regular basis. (Except summer break)
Meets the first Wednesday of the month at 7:30 pm, sometimes in the afternoon or evening. This monthly gathering is a social group that has a lot of fun with many interesting programs and guest speakers. Meetings are held in German. Bus trips are offered during the year.
Every Tuesday night at 7:45 pm- our choir meets for a fun-filled evening of music and song. Our Choir not only harmonizes at the Clubhouse, but also performs publicly, especially during the Holiday season. Songs are sung in German. Sing with us and make new friends!
Whether you're planning a vacation to Germany or just want to learn German, we invite you to join our German language classes. Classes meet every Tuesday evening at 5:00 pm. – 7:00 pm. A summer class is also available.
The group meets the first Thursday of each month at 7:30 pm and weekly during the Karneval season. We celebrate the Fasching in the German tradition. Called Karneval in Rio, and Mardi Gras in the United States, all you need is a love for life and a willingness for fun and frolic in the spirit of Karneval. We also have a children's Karneval group.
Every year the German American Societies of San Diego, Inc., hosts its traditional Oktober-fest on the first two weekends of October. Authentic German food, such as bratwurst, ox-on-the-spit, potato salad, potato pancakes, sauerkraut, red cabbage and a variety of German pastries will be served. Soft drinks & adult beverages will be available, including a fantastic selection of German beers and liquors.
Most every year, our band comes straight from Germany. These talented, fine MUSICIANS dress in traditional clothing, and play a variety of German music, just as you would hear in the beer gardens in Germany.
Folk dancing performances will be featured, along with games & contests, vendor & craft booths, and a kids' zone. Bring your family to El Cajon and experience a real German Oktoberfest!
Meet most every Thursday at 7:00pm This German card game dates back prior to 1818. The first American Skat League was founded in St. Louis, Missouri in 1898.
Please click here if you would like to read the Club's new bylaws.
---
Quick links
Express Band | The Bluebirds | Guggenbach Buam | Skip Banks
Neue Presse | California Staatszeitung | German-World
House of Germany | House of Austria | Swiss Club
Albert Einstein Academies